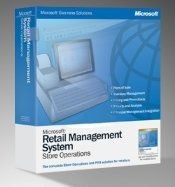 Store Operations 1-5 Lanes*
Price is per POS lane. Base RMS software license includes access to Microsoft resources on CustomerSource (knowledge base, discussions, downloads, eCourse training, more).
*Lane count does not restrict use of the Manager module or limit the size of your network. Lane count refers to the number of POS cash register lanes you can operate simultaneously.

Upgrade plan with CustomerSource access is optional. See Maintenance Plans under Software.