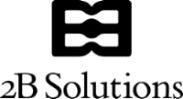 2B Inventory Physical Count
Requires Windows Mobile 2003 or higher
2B-Inventory is designed for retail businesses of all sizes who want the flexibility of using a hand-held mobile device with barcode scanner to manage inventory. Modules include Item Lookup, Receiving, Physical Count, Orders, and Purchase Orders. Manage inventory, customers, and suppliers from one easy to use mobile application.
This softtware module provides inventory count functions only when paired with suitable handheld device.